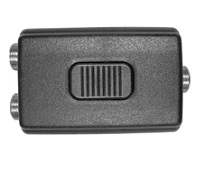 PTT Switches for Repair or Upgrades.
PTT-1500E
Replacement Parts: PTT-1500E - PTT switch / junction box for Gladiator and T Series
PTT Junction Box with PTT switch can be used with ALL Pryme Tactical Kit Products.
NOTE THE PTT-1500E USES A 5-PIN JACK ON ALL 3 PORTS AND IS NOT COMPATIBLE WITH OLDER MODELS OF PTT-1500C FINGER PTT SWITCHES THAT USE A 3 PIN PLUG. THE CORRECT PART NUMBER FOR THE FINGER PTT WITH 5 PIN PLUG IS PTT-1500F.
The PTT-1500E PTT Junction Box with PTT switch features a rugged belt clip and 3 (5-pin DIN) jacks for interconnecting Pryme Throat Mics with a large selection of radio cables (see MC-1500 cables). The 3rd connection can be used for covert or remote PTT switches.
| Name: | Version: | Date: | Size: |
| --- | --- | --- | --- |