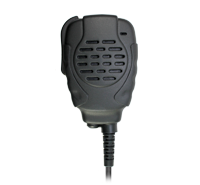 Speaker Microphones
TROOPER® II
WATERPROOF & NOISE CANCELING TROOPER II™ SPM-2200 Series - Weatherized version of our TROOPER® speaker mic. 3 YEAR WARRANTY
NOISE CANCELING MIC The TROOPER II™ is an upgraded and weatherized version of our TROOPER®; series speaker microphone, the best-selling PRYME speaker microphone product of all time. The TROOPER II™ is better sealed to prevent dust and moisture from entering the microphone.
A weatherized version of our TROOPER speaker microphone
IP56 rating - sealed against dust and liquid
Earphone jack faces down to prevent rain from entering (jack should be covered by the supplied cap when not in use.)
Optional listen-only earphones are sold separately.
Large PTT button is easy to operate even when wearing gloves in cold weather.
Features 3.5mm accessory jack for connecting an earphone to the unit (See EH-300, EH-1300, EH-1200 series
for listen only earpieces)
Noise canceling microphone
HYDRA™ (patent pending) radio connectors are available only on select radio connector models and are molded to provide the very best resistance to elements. Because the wires and electronic components inside of the connector are sealed beneath the hardened thermoplastic shell, the connector is completely waterproof and can be fully immersed.
RINO™ super rugged cables are the most durable microphone cable ever. The new RINO™ cable is a rugged, military-grade cable that is engineered to last longer and retain its original shape better than our previous cable. With a tough polymer jacket on the outside and Kevlar® reinforcement inside, this cable extends the lifespan of our audio accessories.
| Name: | Version: | Date: | Size: |
| --- | --- | --- | --- |