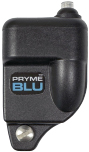 PrymeBLU® Headsets, Speaker Mics & wireless accessories for L3 Harris Radios (models with Built-in Bluetooth)
BT-537
L3HARRIS- BT-537 Wireless Headset Adapter for L3Harris P5300/5400 and Unity XG-75
Wireless Adapter (Dongle) with x37 connector. Fits L3Harris M/A Comm and Unity XG-75 multi-pin radios. Power from radio - no battery required. PLEASE NOTE: Due to RADIO power supply issues the BT-537 CANNOT be used with the P7xxx Series (7200/7300/7400) radios The PRYMEBLU® Adapter allows you to use any compatible wireless headset or other audio accessory with your two-way radio. The PRYMEBLU® Adapter is compatible with thousands of off-the-shelf consumer audio accessories and pairs easily, allowing you to operate wirelessly.
IN STOCK - NOW AVAILABLE
Fits the L3 Harris M/A Comm P5300/5400/7400 and Unity XG-75 series radios.
Compatible with thousands of readily available Wireless headsets and other audio accessories. (audio accessories not included)
Easy pairing process. Stores paired connection to the wireless headset even if the Radio is powered off or adapter is removed from the two-way radio.
Several Push-To-Talk options: use the PTT button on the PRYMEBLU adapter to initiate transmissions, or use an optional PRYME Wireless PTT switch (part number BT-PTT).
NOTICE: This model cannot use our patent pending Auto-switch feature so to operate the radio normally (say if your BT headset fails) you must remove the adapter from the radio.
| Name: | Version: | Date: | Size: |
| --- | --- | --- | --- |