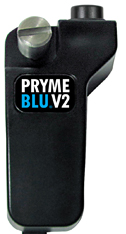 PrymeBLU® Wireless adapters for Two-Way Radios (Portables and Mobile Radios)
BT-511-V2
KENWOOD- NEW UPGRADED V2 (Version 2) BT-511 Wireless Headset adapter for Kenwood multi-pin connector radios using 4 digit model #s, incl. TK-31xx and NX series
Recently UPGRADED (now called V2 - Version 2) Wireless Adapter (Dongle) fits Kenwood radios with multipin connector and 4-digit model numbers Now compatible with all our "Z" version LE PTT Buttons! You can still use the large rechargeable BT-PTT2 but now also you can use the much lower cost BT-PTT-Z series BTLE PTT buttons. BT-PTT-Z, BT-PTT-ZU (FOB, STRAP or RING) do not need to be recharged. Instead they will work for up to 2 years on a replacable Coin Cell battery. The PRYMEBLU® Adapter allows you to use a compatible wireless headset or other audio accessory with your two-way radio. The PRYMEBLU® Adapter is compatible with thousands of off the shelf consumer audio accessories and pairs easily, allowing you to operate wirelessly. New V2 Chip adds BTLE capability allowing use of the Z Mini and ZU Super Mini PTT buttons!The BT-511 is compatible only with Kenwood radios with 4-digit model numbers (example: TK-3180). Radios with 3-digit model numbers (example: TK-280&290) do not provide enough current to the accessory connector to power the Wireless Adapter. Some radios can be modified by a qualified technician to provide power by removing a current-limiting resistor.
Compatible with thousands of readily available Wireless headsets and other audio accessories. (audio accessories not included)
Easy pairing process. Stores paired connection to the wireless headset even if the radio is powered off or adapter is removed from the two-way radio.
Use the PTT button on the PRYMEBLU adapter to initiate transmissions or one of 5 optional wireless PTT buttons.
Works with the Kenwood multipin and Nexedge radios including: NX-200, NX-300, TK-2140, TK-2180, TK-3140, TK-3148, TK-3180, TK-5210, TK-5220, TK-5310, TK-5320, TK-5400 and more.

NOTE: Some radios may require reprogramming or modification.
IF YOU WANT TO SEE HOW IT WORKS OR LEARN HOW TO USE IT SEE OUR VIDEO TUTORIAL BELOW