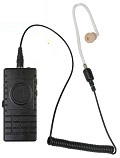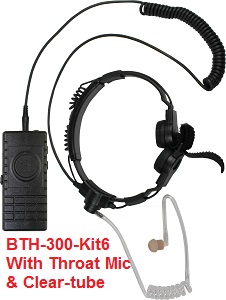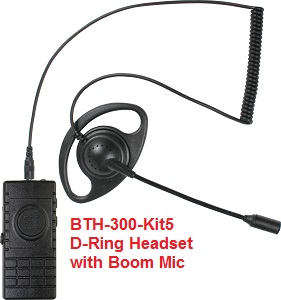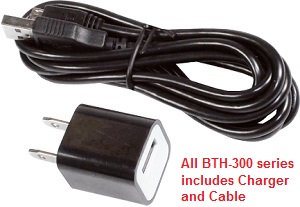 PrymeMAX™ Wireless
BTH-300-MAX
BTH-300-MAX Wireless microphone kits for Phone & Tablet Apps, 9 different versions! Includes built-in wireless PTT. Includes charger and charging cable.
NEW PrymeMAX™ Technology WORKS ON PTT APPS, Radios with Built-in Bluetooth (ICOM, Kenwood, EFJ and BK), ALL PrymeBLU Radio Adapters and also (dual function) NORMAL CELLPHONE CALLS! The NEW BTH-300-MAX series PRYMEBLU® wireless professional-grade lapel microphone kit features a front mounted, easy-to-use, PTT button. The BTH-300-MAX features a 3.5mm jack compatible with Apple headsets plus Pryme offers 9 other high-performance specialty headsets for almost every type of application including vibration throat mics and motorcycle helmet kits. The BTH-300-MAX features include more than 11 hours of operation time (50 hours of standby), easy pairing, no connectivity loss, and fully functional PTT. Other features include a heavy duty clothing/belt clip that swivels 360°, and strategically placed pairing and low-battery warning light on the side of the microphone, protected by a weatherproof lens. Lightweight and easy to use the BTH-300-MAX is multi-functional, featuring a broad-range volume control, 3.5mm headset jack, and rechargeable/replaceable battery (comes with universal micro-USB wall charger and cable). Typical range up to 10 meters. IMPORTANT NOTICE: PTT App function is compatible with both ANDROID or APPLE DEVICES if supported by your PTT Application
CAUTION. We have received reports from Apple product owners that their PTT Applications
are not working properly after upgrading iOS to version 16.1.1 - UPDATE: This issue has been fixed on version 16.1.2.
FEATURES
10+ hours of operational battery life (>50 hours of standby)
Built-in wireless PTT with front mounted button.
Slim, lightweight case is comfortable to wear and easy to use.
Top-mounted 3.5mm jack is compatible with Apple headsets or multiple Pryme headsets.
Typical operation range: 10 meters
Side-mounted volume controls remember their setting even when unit is powered-off.
Cell phone control button for typical phone functions such as answering or terminating phone calls.
360 metal, swivel, clothing clip allows user to wear comfortably.
Wall charger and micro USB charging cable included in all versions
(charging cable can also be used with most USB style charging adapters including car chargers.)