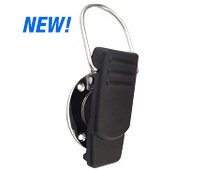 NEW

- The P-CLIP-G21-

Hook

can be used to repair the belt clip on your SPM-2100, SPM-2200, SPM-4200 and BTH-600-MAX Speaker Microphones.
The WIRE LOOP (Hook) pivots so that it can be used to attach Speaker Mic to Uniform or Utility Belt.
The belt clip is already mounted on the round metal plate that is attached to the rear case of the speaker microphone with 4 screws. Extra screws are available to order but not included because they vary between different models of microphones and using the wrong screw can damage he rear housing. Therefore we recommend re-using the old screws if possble.
| Name: | Version: | Date: | Size: |
| --- | --- | --- | --- |