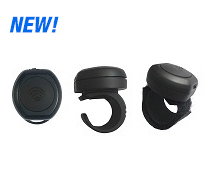 Professional grade Accessories for Phones, Tablets and other devices that use ZELLO Walkie Talkie App (Android or Apple iOS)
BT-PTT-ZU SUPER MINI
BT-PTT-ZU (Super Mini) Wireless PTT switch for PTT apps. No charging required. Available in 3 different packages.
Small, wireless PTT switch works with PTT Apps on both iOS and Android devices using LE (Low Energy) technology The BT-PTT-ZU MINI PTT allows you activate push-to-talk function wirelessly. All versions of the BT-PTT-ZU can be held in the hand, the FOB version has a loop for key rings, or can be mounted on flat surfaces using double side tape. (Not included) The RING version is usually worn on your finger, but could be used on similar size objects, and the VELCRO version has an adjustable strap which is great for handlebars, gear shifts, steering wheels, etc. NO CHARGING REQUIRED. Using Bluetooth Low Energy technology (BTLE) the BT-PTT-ZU works for up to 2 years on easy-to-change CR2032 coin cell battery (included).
Allows you to activate the push-to-talk function wirelessly.
AUTOMATICALLY pairs quickly and easily (after selection in the app's device settings)
Remembers the paired connection even if you have to replace the battery.
Operates for up to 2 years on a single, easy-to-change CR2032 coin cell battery.
Available in one of three new package types: FOB, VELCRO or RING.
NO CHARGER NEEDED. Simply unscrew 4 small screws to easily change the CR2032 coin cell.
Includes one CR2032 coin cell battery (already installed, just turn on power switch when ready to use).
So easy to use! ON/OFF POWER SWITCH. NO LIGHT. NO PAIRING BUTTON.
| Name: | Version: | Date: | Size: |
| --- | --- | --- | --- |