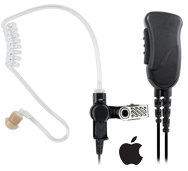 Professional grade Accessories for Phones, Tablets and other devices that use ZELLO Walkie Talkie App (Android or Apple iOS)
MIRAGE™ for PHONES
MIRAGE SPM-1399A - Surveillance kit for cellphones and tablets, lapel mic style (1-wire) with noise reducing mic element and clear tube earphone.
The MIRAGE lapel style mic kit is a wired accessory that features a clear tube, surveillance style earphone. The tube assembly has a twist connector making it easy to replace or clean. Kit includes standard bud type earpiece and your choice of semi-custom ear insert. This version of the MIRAGE is wired for Apple type devices (some Android models use Apple compatible plugs). PLEASE NOTE there is no PTT/control switch on this model. For PTT (PoC) applications you must either press the screen of your device or use an optional wireless PTT button. Wired accessories are sometimes better than wireless as they are very rugged, do not need to be programmed or charged, and are very simple to use.
FEATURES
Surveillance style professional grade lapel microphone
Clear tube earphone is easy to attach and remove for cleaning or replacement
(great for multiple users to share - each has their own tube assembly)
Metal reinforced clips on both microphone and earphone rotate 360 degrees
High-quality electret condenser microphone provides excellent transmit audio.
Lapel style mic allows the user to hold or mount the microphone close to their
mouth, helping to reduce background noise
The rugged polycarbonate microphone housing has been recently upgraded to
make the mic more directional, further helping to reduce background noise
Features rugged, Kevlar reinforced cables with oversized strain reliefs
WIRED HEADSETS ARE RUGGED, EASY TO USE AND VERY COST
EFFECTIVE FOR USERS WHO DO NOT NEED WIRELESS ACCESSORIES.