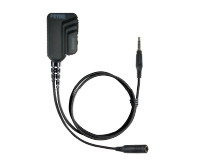 WIRED ACCESSORIES for Phones and Tablets. Many with PTT capability for popular PoC Applications.
NANO-99A-BF
Pryme NANO with 3.5mm Jack. SMART PTT Button for phones and tablets. Use it with your existing phone or tablet headsets.
Based on the popular PICO model, the NANO lets you use your existing headsets, ear pods, etc. YOU DON"T HAVE TO BUY A NEW HEADSET! The NANO provides REAL Push-to-Talk when using most PTT apps on cell phones and tablets. Most cell phones and tablets do not support any kind of external Push-to-Talk (PTT) function on their accessory plugs, so users have either had to use the device screen or Bluetooth to make PTT work. Sometimes it's not easy to push a PTT on the device screen and Bluetooth can be inconvenient since it needs pairing, battery charging, etc. The problem is solved because the computer software inside the NANO. The NANO has two buttons, a large one for PTT, and a small side one for regular use (like phone calling, music playing, photo taking, etc.) Or continue to use the button on the headset for normal phone use. The NANO PTT button activates computer software that communicates to the phone or tablet and activates the PTT of the PoC app directly. The NANO PTT works just like a normal PTT, push to talk and release to listen. There is no battery to charge and the NANO does not add any battery drain to your phone or tablet (the NANO has a small disposable battery you can easily change, but it will last from 1 to 2 year,s so it is very inexpensive to operate.) Using the NANO is super easy! Select external PTT in your PoC app (not every PTT app supports external PTT so check first.) Plug in the NANO, and simply press the PTT to start talking. Nothing to pair, nothing to charge. Couldn't be much easier!
Custom made Braided Fiber cable is soft, comfortable and resists tangling
3.5 4c Jack interfaces with your existing phone or tablet headsets
True Push-to-Talk operation for most PoC apps
Newly-designed mic housing contains custom microprocessor, power switch, PTT button and phone button
Thick, Braided Fiber radio cable with metal clamp retention eliminates strain on the wires inside the cable
360 degree rotating clip on PTT/mic housing attaches to lapel, coat, uniform, as required by user
| Name: | Version: | Date: | Size: |
| --- | --- | --- | --- |