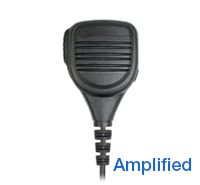 Speaker Microphones
SYNERGY™ M8 AMPLIFIED
SYNERGY; M8 AMPLIFIED! Synergy Series (SPM-600) OEM Style Speaker Microphone with 3.5 Earphone jack. Performs like a TROOPER but slightly smaller package.
Wired, AMPLIFIED Remote Speaker Mic for Motorola radios using the M8 connector, including TLK100, SL300, SL3500e, SL500e and SL7550. Includes wall charger and USB charging cable (cable allows charging for many other USB sources). UP TO 15 HOURS PER CHARGE! These radios were not designed for speaker microphones. If you plug a normal speaker microphone into them the received audio level is too low for practical use. The SPM-600-M8AMP contains a booster amplifier and battery to bring the received audio up to normal levels.
Typical Battery Operating life 15 hours
Charge time with included charger about 5 hours.
Audio output >115dB (controlled by radio)
Built-in 3.5mm audio jack for optional earphone.
Metal reinforced clip rotates full 360 degrees. Optional Mobile Button Mount clip available
4.0mm Heavy Duty coiled cable with Kevlar reinforcement
Label plate can be custom printed with your logo (minimums required)
IP56 rated for dust and water.
Includes wall charger and Charging cable with USB connector (cable can be used with virtually any USB charging source)
LED on the back tells you status. RED you need to charge. GREEN you are ready to use.
| Name: | Version: | Date: | Size: |
| --- | --- | --- | --- |