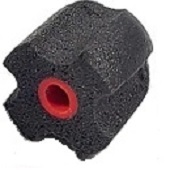 Parts for Surveillance Kits: Earbuds, Elbows, Tubes, Transducers, +more
Comply™ AWARE TIPS
NEW Comply TECHDEFENDER Tips - Super comfortable and slotted so you can still hear background noise (Situational Awareness)
Comply™ TECHDEFENDER Ear Tips are designed for for Comfort, Secure Fit and slotted to let you hear background sound. Extremely soft viscoelastic foam conforms to the ear canal to maintain an acoustic seal and secure fit. Compatible with ALL PRYME acoustic tube earpieces. COMES IN PACKS OF 2
SPECIAL VENTED TIPS FOR SITUATIONAL AWARENESS
COMPLY™ TECHDEFENDER™ Special Features:
"SITUATIONAL AWARENESS" Slotted to allow background noise to come in so even with the snug secure fit of the heat conforming foam you will still be AWARE of things going on around you.
All Day Comfort. TECHDEFENDER Tips are made from a unique, breathable, memory foam. Comply™ Tips are activated by body heat, becoming ultra soft, reducing irritation and fatigue. You roll these tips in your fingers before insertion casuing them to shrink then you place them in your ears and they slowly expand to a perfect fit. There are two sizes, Regular and Large. Most users will prefer the Reguar (STD - Stadard) tips but if you have really big ear canals or want an extra snug fit you chould use the Large (LGR) version.
A really great feature of these tips is the acoustically transparent filter that will trap almost all dirt, wax and moisture helping to prevent the common issue of tube earphones plugging up. It is a lot easier to clean the filter in the tip than cleaning the acoustic tube.
Flexible Core provides easy-to-use, rugged attachment to the standard elbows used on PRYME and most other brand headsets.
| Name: | Version: | Date: | Size: |
| --- | --- | --- | --- |