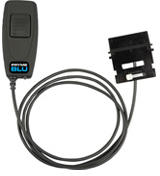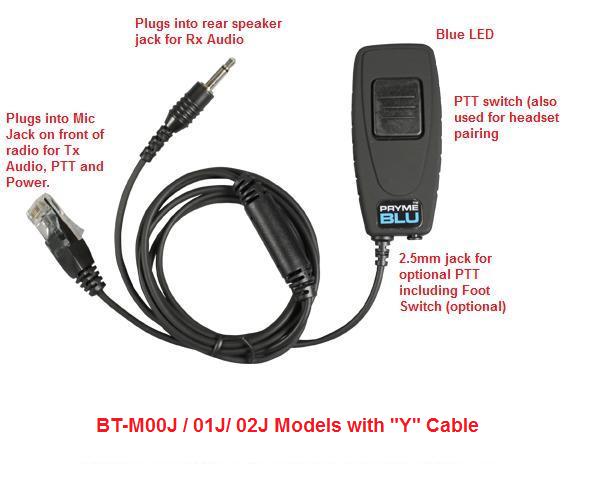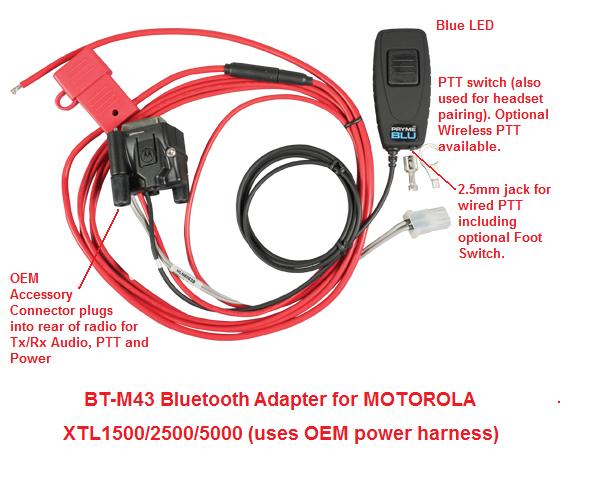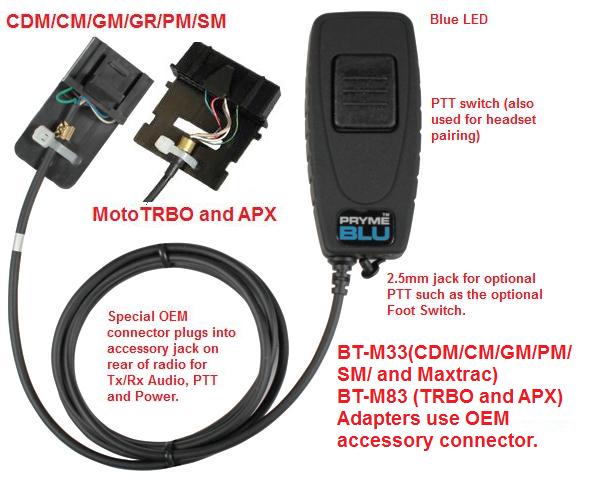 PrymeBLU® Wireless adapters for Two-Way Radios (Portables and Mobile Radios)
BT-MOBILEKIT
NEW V2 Wireless adapters for MOBILE RADIOS. Powered from radio w/wireless Tx & Rx audio and multiple PTT Options.
UPDATED TO THE LATEST BLUETOOTH TECHNOLOGY! THE V2 ADAPTERS ARE NOW NOT ONLY COMPATIBLE WITH APPLE AIR PODS BUT ALSO ALL OUR LOW ENERGY (LE) PTT BUTTONS. These Adapters allow you to use a compatible wireless headset or other audio accessory with a MOBILE two-way radio. Now improved, these adapters get power from the radio and now provide both Transmit and Receive Audio. The adapter's interface cable plugs directly into either the microphone jack on the front of your radio or the accessory connector on the rear of the radio (depending on radio model). The BT-Mobile works with thousands of off-the-shelf Bluetooth headsets or our specialty headsets and wireless speaker mics (not included).
Allows you to use almost any Wireless headset, now including Apple Air Pods, on your mobile 2-way radio.
V2 (Version 2) uses latest Bluetooth technology.
Compatible with thousands of readily available Bluetooth headsets (not included)
Easy pairing process. Stores paired connection to the wireless headset even if the Radio is powered off or adapter is removed from the 2-way radio.
No time delay on Transmit Audio messages.
Powered directly from the mobile radio. No battery to change!
Compatible with a wide range of different mobile radios. Simply choose the correct model adapter for your radio.
Base unit has push button PTT and can be mounted up on dash or other easy to reach location.
For other PTT methods add one of our 4 different (optional) Wireless PTT buttons or very economical wired Foot Switch (KIT 2).
| Name: | Version: | Date: | Size: |
| --- | --- | --- | --- |